Vestibular Rehabilitation Therapy (VRT) is an exercise-based therapy program that maximizes the body's natural ability to compensate for balance disorders. A comprehensive evaluation is performed to determine the nature and extent of impairment as a result of the vestibular disorder. This evaluation includes:
History and onset of symptoms
Identification of risk factors
Balance, coordination, and agility testing
Gait/Stance evaluation
Oculomotor exam
Positional or maneuver-induced assessment
Review of medical condition with collaboration with physician
Review of lifestyle and individual needs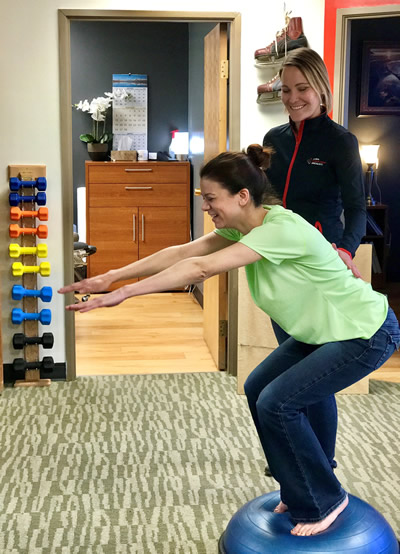 Based on the results of the evaluation, a customized treatment program is developed to return the individual to daily activities and independent function.
VRT treatment includes:
Balance Re-Training to include static and dynamic systems
Sensory Organization Training
Gaze stabilization
Habituation exercise
Compensatory strategy
Canalith Repositioning Treatment for BPPV
Aerobic Conditioning
Functional Mobility training
Manual therapy to cervical spine/paravertebral muscles
Environment and home modification to reduce fall risk
Your therapist will work with you to understand your goals and develop a treatment plan to achieve those goals through physical therapy. Our treatments have an individualized, patient-centered focused. All treatments are one-on-one so you can expect to receive optimal care during each treatment session.